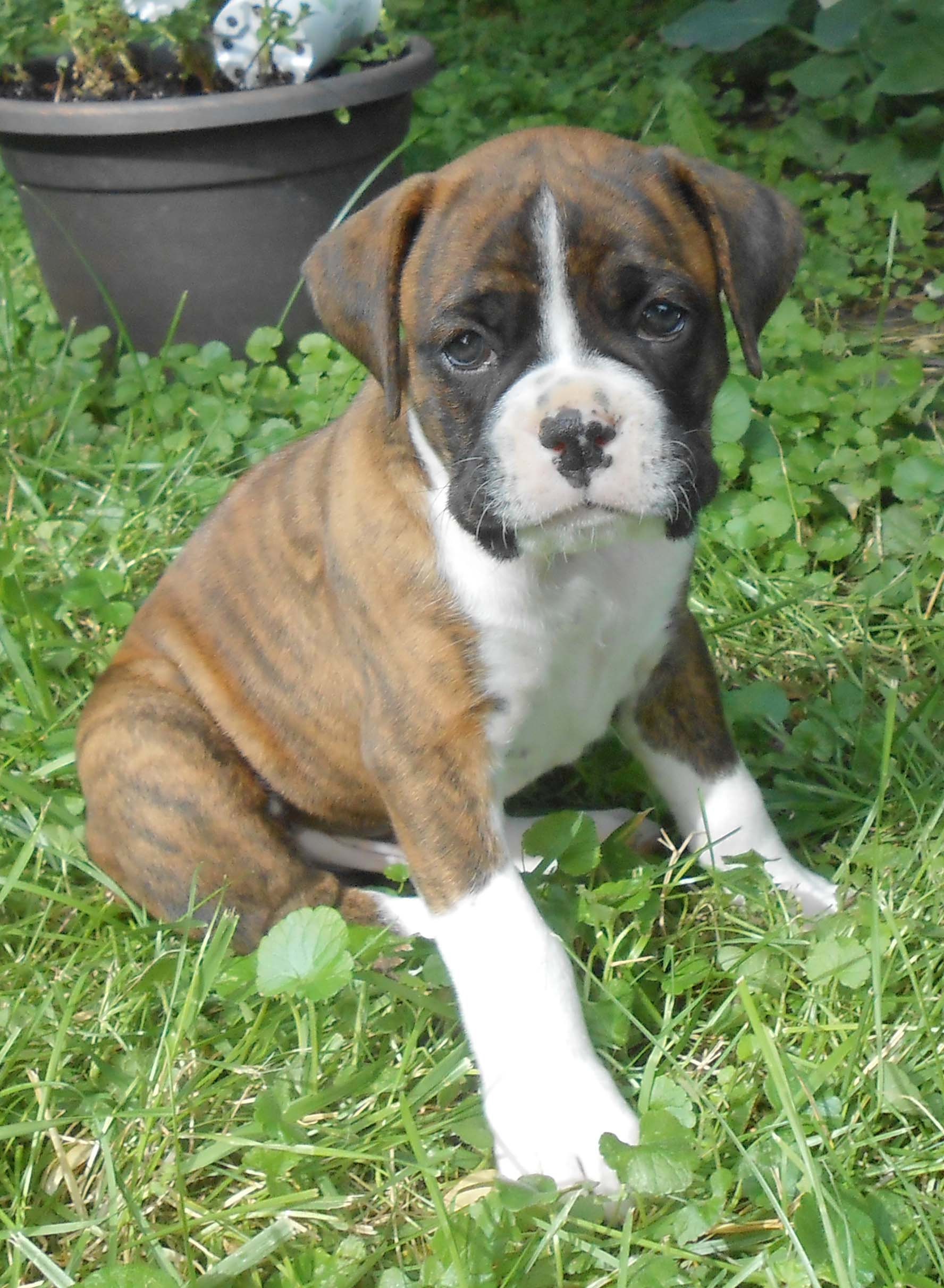 Rocket, my six week old boxer puppy, is in training to be my studio dog!  For the record, I would have rather he came home at eight weeks, but that wasn't possible in his circumstance and  everything else about his breeder is absolutely perfect.  I'm enjoying just watching him and teaching him.  My late, great Otto came home at 4.5 weeks (boxer human wasn't happy her dog had an unplanned romance with a stray pitbull and she dumped them) and he turned out great. 
Since Rocket came from the south where they actually had nice weather, he was accustomed to being outdoors all day when it was nice and inside at night. So the first part of potty training is easy, he already has gone outside, and gets right to it when I take him out.  I'm taking him out every hour during the day, and at night, he wakes up once in his blankie next to our bed for potty, then settles back in til 5:30 or so.
So my focus has been to just feed, cuddle, play, potty, talk, sing and expose him to a few new things without overwhelming him.  He's learning not to bite us and is giving his toys a real work out!  He also played with a 3 year old and an 18 month old petted him, his first home had school aged kids.  Who taught him to "come here".  Which works if you are moving, less so when standing still!
I was going to take the area rug up in my living room but Rocket has made it his lair.  He seemed to like it immediately, his soft "blankie" is at my feet where I sit on the sofa, his food and water in a corner, and his toys all around.  He seems to feel very comfortable and safe on it and hasn't had an accident on it.  I think it's that whole den mentality.  When I see him start for the dining room, I know he needs to go outside NOW.
I barricade off the dining room when I can't be there.  I'm not leaving him often this week, and mostly when he's asleep.
He's learned to walk down the sidewalk and back, on his leash.  He actually kinda runs it.  He's not fond of his collar.
He figured out the steps yesterday.
Today he learned that outside, if the broom fell down on the walkway, he can pull it with is teeth.  :)
He also learned that Mommy takes showers.
Since he's young, I make sure to give him lots of cuddles after every new experience.  His first foray in his new backyard had all kinds of new things.  He didn't like the gazebo the first day, now he runs for it three days later!
He is nine pounds by my bathroom scale. 
So since my real studio is not at all puppy proof, I'll be painting my smaller pet portraits in the dining room on a portable easel, and painting larger ones up in the studio at night when his daddy is here to watch him.
Here's a portrait I painted of my late, great Sarge, also a boxer dog.